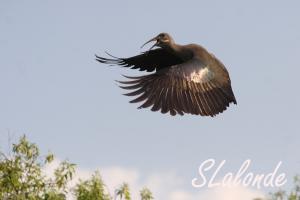 Terrified is one way to describe how I felt. My heart was going to come charging out of my chest, the plane would crash, and my life would be over.
Okay, so I'm somewhat over dramatic, but the fear was very very real. I've never been on a plane for more than one hour (and only to fly to and from the Sault and Toronto twice).
My spouse Jeff and I, said our goodbyes to our parents and two rescue cats. Traveling, I must admit, was nice. The world can either be an incredibly frightening place, or an incredibly beautiful place, for someone with a strong imagination. Sometimes, both.
The first ride to London went smoothly, but we were situated in the middle row, pretty crammed together. I learned pretty quickly that people do not care to check if you have enough leg room for them to put their seat all the way back. Jeff's leg's were painfully shoved right into his seat, due to his height. We always tried our best to be courteous to those behind us.
Once in London, Heathrow- It was a long 7 hour wait until our next flight to Johannesburg

We stayed just outside of Johanesburg at the Belvedere Hotel. This was our waiting point, just before the real trip would start and NOMAD ADVENTURES would pick us up and carry us off to our camp sight near Kruger Park. At Belvedere, it wasn't safe to go anywhere other than the property line, which was surrounded by a tall fence. Being near a big city, there was no real chance of meeting any dangerous animals. Just dangerous people.Though we were confined to a yard, it was a beautiful one. As enthusiastic birders (or wannabe birders), Jeff and I were thrilled to find some new species visiting the gardens. The yard was decorated with palm trees, the only tree I can really identify.
We arrived at Belvedere around 7 or 8 am and we were exhausted after having no sleep on the plane. So we only snapped a few photos of the pet chickens that ran loose around the yard, and a few small birds before having a well needed nap. The hotel used these old fashioned looking skeleton keys, which of course, decided not to work on our door. You get what you get though. Trying to lock the door, permenently locked us in. Not what I had in mind. Outside out window we could see the kitchen staff preparing dinner from across the small back yard. INobody could hear us, and even the fat chickens decided to ignore our calls and peck at the ground for bits of food.
Eventually, someone did hear us, and let us out. Only, we now couldn't lock our door again. Jeff piled our bags on the inside of the door that night to ensure it couldn't open very well from the outside. At least it was only one night, and the only guests were NOMAD guests on the tours, and after all, we were pretty much caged in.
The owner was friendly, and also enthusiastic about birds. He told us to keep an eye out in the morning before we leave, the Egyptian geese like to perch at the top of the hotel. That afternoon we arrived, we did get to see a weaver bird, making his nest. The bird works really hard to create THE most perfect nest to impress a girl. But if the girl doesn't like it, she rips it to shreds, leaving the poor boy to start all over again. Only, he doesn't get any second chances with that female. She's not impressed, and flutters off to find a more suitable mate. Weaver nests are interesting, as they look more like a hanging basket, then a nest we would see from a robin or sparrow. While doing some bird watching, we were happy to see a Black-shouldered Kite swoop in and land on a tree. This is a fairly small bird of prey. After his little show, we got to watch plenty of Ibis, with their long necks strutting around , doing their thing.
I could have spent forever photographing the birds, and I was glad the "waiting" day, was not wasted for us. I was a prepared to spend a day without any sightings, locked up in a yard...Pleasantly surprised for sure! So much life! The other guests weren't as impressed, and kept entertained by the pool or bar. When I wasn't looking at birds, it was because the sun went down and old George wouldn't let go of my shoe. George was the owner's small dog who believed my feet were something to chase and play with.
In the evening, everyone gathered together in the back yard for a BBQ. There were different groups, some coming in from an already existing adventure with Nomad, some were leaving and some continuing on with us. Other people, like us, had just arrived.
I was pleasantly surprised to discover there were three vegetarians with us, and one pescatarian. The vegetarian options were excellent. The food smelled delicious as we were served a large (stuffed)squash, some rice and pap (a corn meal dish).
When dinner was done, people started to make their way to the small bar, beside our hotel room. The area was small, leaving a little bar, and living room with sofas beside our door. Exhausted from the trip, Jeff and I hurried to bed. But the party was to continue on without us, and it was pretty loud. Thinking that maybe it would die down soon, I quickly drifted off into a heavy sleep regardless. I have no clue when everyone finally got to bed. All I knew, was that from now on, it was early mornings!

Stay tuned for more !